Almost on the banks of the Río Cuale, in the heart of Vallarta, Casa Nirvana is located, where elegance and sophistication are expressed in a sublime way.
Four fully furnished suites, two terraces, one covered with a jacuzzi and an orchid garden and another outdoors with a table for four people, make up a unique and different housing complex. At Casa Nirvana every detail is part of an exceptional whole.
Imported decoration with accessories from different corners of the world. Marble floors and kitchenettes, New York type laser blacksmithing, fine wood doors and furniture brought from Bali are elements that create an incomparable atmosphere of sophistication.
This magnificent construction was conceived and designed with the purpose of satisfying the most demanding levels of comfort. Smart lighting, Heaters and independent gas tanks for each suite. The fact that the bedding is imported and the soaps in the bathrooms are of the Hermes brand, constitutes a touch of elegance that does not go unnoticed by those who value good taste. The common spaces of Casa Nirvana work like those of an exclusive club, providing them with selective privacy.
The choice of the site where the housing development is located is not a random decision. It is a neighborhood that, in addition to preserving the attractive village flavor that distinguishes the City of Puerto Vallarta, is emerging as an area of ​​growing tourist projection thanks to the urban modernization tasks that are currently being carried out in this place. Its proximity to the beach, which is just a few blocks away, is one of the many attractions of Casa Nirvana. It enjoys a beautiful panoramic view that encompasses part of the city and the mountains that surround it.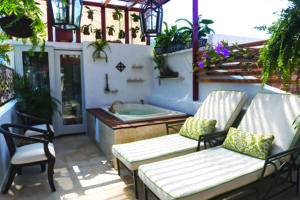 Dentro de la convulsa situación económica mundial, la industria inmobiliaria representa una de las alternativas más seguras y redituables para la inversión.
To its intrinsic value as a precious, modern and luxurious property, we must add to Casa Nirvana the attractions of the Riviera Jalisco-Nayarit, among which its natural beauties, the hospitality of its people and its infrastructure stand out, among many others that added together they become surplus value. Whatever the function to which this property is intended, purchase, sale or rental, success is guaranteed.
The name of this magnificent development could not be more accurate. The word Nirvana comes from certain religions of India and refers to a place where the human being finds fulfillment. Without a doubt, Casa Nirvana is destined to become a paradigm (trendsetter) for new real estate development concepts focused on privileged lifestyles.