Philipp Plein, the fashion designer, is in the middle of the creative process: he is building the mansion of his dreams in Bel Air. Dreams that for some might be nightmares.
How do you we this? Because through the Chateau Falconview account on Instagram, Philipp tells us step by step the development of the construction and decoration of the immense house.
Chateau Falconview, how is called, is located in Bel Air and has 14.5 hectares (145,000 m2) owned by Howard Hughes and to whom Plein bought it in 2014. The land cost 300 million dollars and at the moment it is not yet possible   to calculate the decoration and construction that will have a total of 3,700 habitable square meters. The guest house, already finished, is a small palace located in the highest part of the property with "Versailles" type architecture and delirious decoration.
But who is this eccentric designer? Philipp Plein was born in Munich on February 16, 1978. After finishing school, he enrolled to study law at the Friedrich Alexander University of Erlangen-Nuremberg. At the same time, he started designing furniture pieces and making them out of stainless steel.
Rivets, skulls and lots of leather: the luxury label Philipp Plein has opted for deliberate provocation. With extraordinary success: celebrities such as Naomi Campbell and Marcus Schenkenberg are among the fans of the brand. After trying his hand at interior design, the Munich designer changed course in 2008 and founded his fashion label Philipp Plein. He polarized with his rocky and offbeat collections. This helped him establish himself in the fashion industry and especially in the United States. Today it has 250 stores around the world.
The house, without a doubt, falls within the list of those megalomaniacal constructions like Michael Jackson's Neverland or William Randolph Hearst's Castle.
Description of the house on Plein's Instagram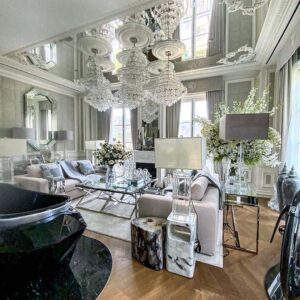 The mansion consists of 3.6 acres of land, 0.5 miles of private road. Absolute privacy and views of the city of Los Angeles and the Pacific Ocean make this property so special and unique.
The guest house sits in the middle of the driveway on a small hill overlooking the Bel Air canyon. The main house, which looks more like a hotel, sits on top of its own little hill and enjoys the sunlight all day.
The land was once owned by the legendary Howard Robard Hughes Jr., a record-setting American business magnate, investor, pilot, engineer, film director, and philanthropist; he was known during his lifetime as one of the most financially successful people in the world.
"I am so excited about this small private project that I started in 2014 when I bought the land! It took me around 3 years to get all the necessary permits to build my dream private house! Since 2018 I am building the house and the due date of the project will probably be mid 2023. Everything in this project is special and personalized. I have houses in the south of France, New York and Switzerland, but this will definitely be crown jewel in my collection. Since 7 years I work almost every day with my Italian architects and my American architects, as well as my furniture and accessories suppliers!. It's probably the only hobby that I have, besides my job. I work on it after work at nights and during weekends and I hope it's never really finished, because I probably enjoy the process of designing, creating and building it, more than living in it!"