Do you love the vibrant colors of Mexico – especially when escaping the drab winter months from north of the border? When we think of Mexican colors, orange, yellow, red, turquoise, and teal come to mind. It's no secret that most people I meet looking to fully furnish their new condo in the Bay of Banderas area tell me they want to incorporate these colors in their décor.
You do not have to purchase an older condo building to achieve the look. Even if you bought a unit in a modern condo building, you could still create a Mexican décor style. Here are some tips to make your condo warm here and homey.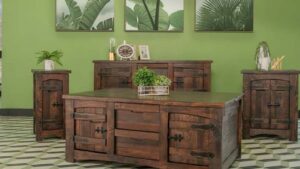 When it comes to color, you have two choices. It all depends on your risk tolerance with color. You can go all-in and paint your walls with warm, bright Mexican colors, or keep your walls neutral and incorporate vibrant colors in décor items. Many folks prefer to go the safe route, using toss cushions, artwork, throws and rugs to bring in the color. Should they decide that they want a change in the future, it is generally lower cost to switch these items out rather than repainting the whole condo. The same rule applies to large furniture such as sofas, sectionals, and sofa beds. Neutral colors are easier to work with over time.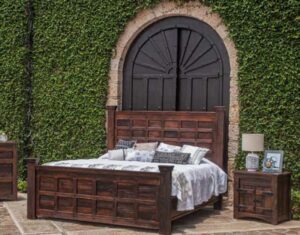 Another feature of traditional Mexican or Spanish décor is a honey color or dark chocolate finish on cabinetry, wood trim, and doors. This brings in the color and texture of rustic woodwork, which is common in this décor style. If you are not afraid of color, another option is to paint your cabinetry a bright color, such as turquoise or terracotta, making your wood cabinetry a feature in your home. Both options are stunning and work in kitchens, living rooms, bedrooms, and bathrooms.
A décor approach I love is to add floating shelves that look like rough, rustic wood beams. It is a great way to make a décor statement in a living or dining room. They remind us of the old wood beams on the ceilings of old wooden homes. Unfinished wood is preferable to achieve the look but might be too heavy to support if you have drywall. In our climate, unfinished wood is also more attractive to wood-eating bugs. Today, you can purchase engineered wood that simulates those rustic wood beams, giving you the look without the risk.
Another aspect of this traditional look is clay floor tiles. Most older condos have Saltillo tiles that come from Northern Mexico. They are rough-edged and unfinished, so sealing the tiles to prevent stains is essential. Unsealed, they will weather over time if you prefer this old-fashioned look. If you are moving into a new condo, it is unlikely to have Saltillo tile flooring. In that case, I recommend adding terracotta-colored rugs. Remember to get anti-slip cushions under your rugs to avoid accidents. Rugs look better when larger, so consider buying slightly bigger whenever possible.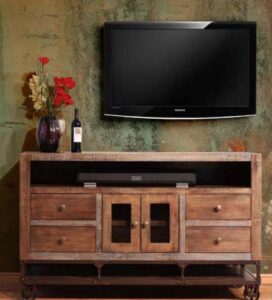 My favorite part of decorating in this décor style is selecting beautiful wood furniture. Rustic furniture is an essential component of the Mexican décor style. If your condo building is modern, opt for a few statement pieces rather than filling your entire condo with the same type. A traditional headboard made of aged pine, a turquoise-stained rustic tv entertainment center or a honey-stained chunky coffee table are pieces that will stand out and create the look. Mixing and matching décor styles is the trend, so do not worry about getting every item the same. The key is to get everything to blend, not to match identically.
One thing to remember is that traditional sofas and chairs in this décor style are not as comfortable as you may prefer. Dining chairs tend to be straight-backed instead of with a curve. Most Mexican furniture manufacturers use HD foam instead of HR foam, meaning the seat cushions will compress and harden. Palliser (www.palliser.com) is a brand manufactured in Saltillo, Mexico that uses HR foam so your sofa, sectional, and sofa bed will stay comfortable for decades. This manufacturer even allows you to select your favorite cover color in either performance fabric (does not stain), regular fabric or leather. Again, whether you prefer color or not, you can choose either a neutral color cover or a bright turquoise or orange.
To add punch, I like to incorporate bronze-colored décor items in each room. Oil-rubbed bronze pots, urns, and plates look old and worn, which provides charm to the room. Consider adding a bronze hanging pot rack over your island if your kitchen space allows it. This addition enhances the traditional look and gives you more storage space which always seems to be needed. Bronze-colored décor items coordinate well with dark wood stains, terracotta, and bright colors. Although oil-rubbed bronze resists fingerprints, it is a material that will continue to age. Do not be alarmed if your bronze plate turns to rose gold or green as time passes because this will only enhance its rustic look.
Another material I recommend for this décor style is wrought iron. Wrought iron accent pieces, including chandeliers, cabinet pulls, and furniture, such as tables and chairs, are great pieces that we associate with traditional Mexican-style décor. Not only does this material add to the style, but it is also durable and low maintenance.
Many new condos do not have backsplashes in bathrooms or tile in kitchens. This is an excellent opportunity to add some colorful painted or decorative tiles which make a dramatic statement in any room. Talavera tiles are readily available at many stores in various designs and colors, and you can even get Talavera in folk art, classic and colonial patterns.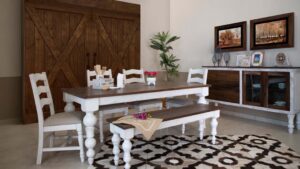 I hope these tips have helped you as you think about decorating your new home in Mexico. If you are unsure how to make it happen, my team and I are happy to assist with free design advice. We can also help you easily furnish your home with a turnkey furniture package that fits your budget.
Sheryl Novak
Do you like any item you see in the pictures of this article? They, and more, are available through www.solutionsmexico.com.
New condo?  Buying furniture for our climate in Vallarta is different – it needs to stand up to termites, salty ocean air, high humidity, and intense UV rays. Sheryl Novak and her team at SOLutions Mexico specialize in helping you find the manufacturers and suppliers that use the correct materials with the proper processes so your furniture lasts.  Visit us at our Puerto Vallarta store: 363A Constitucion or Bucerias store at Heroes de Nacozari 126; email us at furniture@solutionsmexico.com or send a text by Whatsapp to +52 322 136 5156.
We offer turnkey furniture packages in your preferred décor style and budget, delivered right to your condo, including assembly!